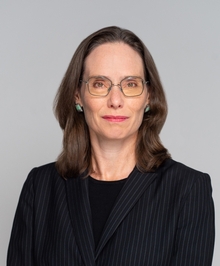 PRACTICES
Employment Law
Disability Rights and Justice
EDUCATION
LL.M., Yale Law School
J.D., University of Michigan Law School
B.S., Stanford University
CONTACT INFORMATION

V-Card
Maia Goodell is a civil rights lawyer for people facing employment discrimination or disability discrimination.
A graduate of Yale and the University of Michigan law schools with 15+ years of experience, including work for racial justice, Maia provides the highest level of legal expertise and insight, empowering her clients to accomplish their goals. In addition to legal action, Maia works outside the courtroom, offering consultations about legal rights and support negotiating reasonable accommodations.
Recognized for her plaintiff-side employment work, Maia has successfully supported many different kinds of professionals – including executives, lawyers and Wall Street bankers, housekeepers, and security guards – in understanding and defending their rights. Her cases have addressed same-sex harassment, sex discrimination, criminal conviction discrimination and more.
Maia rejoined Vladeck, Raskin & Clark PC following close to a decade in public service. She previously spent formative years with the firm as an associate and later a partner, and returns with years of experience at nonprofits and in disability impact litigation.
Maia established and leads the firm's
disability rights and justice practice
, centered on the enforcement of the Americans with Disabilities Act (ADA) and related civil rights laws. Maia's experience includes serving as individual and class counsel in state and federal courts and leading groundbreaking actions against major institutions, such as:
New York City's Metropolitan Transit Authority (MTA) for the physical inaccessibility of its subway system
The City of Philadelphia for failing to make its sidewalks and pedestrian routes accessible to people with mobility and vision disabilities
Stanford University for its leave of absence policy violating the rights of students with mental health disabilities
Maia's work has supported, in addition to disabled people, women, people of color, immigrants and veterans. Maia believes equality is a human right and recognizes that disability equity is intertwined with racial and other forms of injustice. She is committed to a client-driven, community-based approach to lawyering for long-term, holistic solutions advancing equity and dignity for all.
Maia was one of the first female U.S. Navy officers to serve aboard combatant ships in the 1990s, a transformative time in the military's history marked by sexual scandals and debates about whether men and women could serve together. That experience before law school helped her develop a commitment to fostering equality to change systems and outcomes.
Maia holds a Master of Laws (LL.M.) from Yale Law School, a J.D. from the University of Michigan, and a Bachelor of Science in Chemistry from Stanford University.
Representative Experience
Disability Access
Lead attorney in class action lawsuit against Medical Management Group alleging the for-profit company schedules Independent Medical Examinations (IMEs) for disabled people at facilities that are not ADA-compliant
Supervising attorney in case challenging physical inaccessibility of the New York City subway system; argued and defeated motion to dismiss
Supervising attorney in case challenging leave policies that discriminated against Stanford University students with mental health disabilities; obtained settlement including new leave policies and monitoring
Represented independent living center and people with mobility and vision disabilities to challenge sidewalk barriers in Philadelphia
Employment
Supervising attorney in case challenging systemic discrimination against veterans with PTSD in employment; obtained EEOC determination of probable cause
Lead appellate attorney for case challenging same-sex sexual harassment of a probation officer: defeated summary judgment motion in the United States Court of Appeals for the Second Circuit
Represented workers in claims of unpaid overtime and race, sex, and sexual orientation discrimination against retail loss prevention workers: class action settlement of unpaid wages; discrimination damages
Prior Experience
Clerkship: Hon. M. Margaret McKeown, United States Court of Appeals for the Ninth Circuit
Litigation Associate, Foley Hoag LLP
Supervising Attorney, Disability Rights Advocates
Supervising Attorney, Workplace Justice Project, Mobilization for Justice
Of Counsel, Kakalec Law PLLC
Awards & Memberships
Super Lawyers Honoree
Fellow, Racial Justice Institute of the Shriver Center on Poverty Law, Class of 2016
Member, Civil Rights Committee, Federal Bar Council
Former Chair, Military Affairs and Justice Committee, New York City Bar
Member, Disability Rights Bar Association
Member, National Employment Lawyers' Association/New York
Former Adjunct Professor, Fordham Law School